Thursday, April 19, 2018
View catalogue
The Day Sale features a broad span of genres and eras, beginning with Impressionist and Modern Art, including works by Odilon Redon, Paul Klee, Kees Van Dongen, and Édouard Vuillard. The 19
th
Century European art section is highlighted by works from Jean-Baptiste-Camille Corot, Jean-Auguste-Dominique Ingres, and Édouard Manet. A fine selection of Post-War and Contemporary artists include Alexander Calder, Lucien Freud, Jasper Johns and Bridget Riley, underscoring the full breadth of David Rockefeller's collecting, well into his later years.
Also:
Wednesday, April 18, 2018
Kazimir Malevich, Suprematist Composition, 1916, oil on canvas. © Christie's Images Limited 2018.
Kazimir Malevich's
Suprematist Composition,
1916, will lead
Christie's
Evening Sale of Impressionist and Modern Art (estimate upon request). Suprematist Composition is among the groundbreaking abstract paintings executed by Malevich that would forever change the course of art history. The present canvas was last sold at auction in November 2008, when it established the world auction record for the artist, which it continues to hold today.* One decade later, Suprematist Composition is expected to set a new benchmark for the artist when it is offered at Christie's New York on May 15.
Loic Gouzer, Co-Chairman, Post-War and Contemporary Art, remarked: "Malevich's work provided a gateway for the evolution of Modernism. Malevich pushed the boundaries of painting to a point far beyond recognition, forever changing the advancement of art. Without the Suprematist Composition paintings, the art being made today would not exist as we now know it."
Max Carter, Head of Department, Impressionist and Modern Art, New York, continued: "Malevich's Suprematist abstractions didn't break with the past so much as articulate the future. What an honor to offer Suprematist Composition, 1916 which has lost nothing of its revolutionary power in the century since it was painted, this spring."
On 17th December 1915, the Russo-Polish artist Kazimir Malevich opened an exhibition of his new 'Suprematist' paintings in the Dobychina Art Bureau in the recently renamed city of Petrograd. These startling, purely geometric and completely abstract paintings were unlike anything Malevich, or any other modern painter, had ever done before. They were both a shock and a revelation to everyone who saw them. Malevich's Suprematist pictures were the very first purely geometric abstract paintings in the history of modern art. They comprised solely of simple, colored forms that appeared to float and hover over plain white backgrounds. Nothing but clearly-organized, self-asserting painted surfaces of non-objective/non- representational form and color, these pictures were so radically new that they seemed to announce the end of painting and, even perhaps, of art itself.

Suprematist Composition
is one of the finest and most complex of these first, truly revolutionary abstract paintings. Comprised of numerous colored, geometric elements seeming to be dynamically caught in motion, it epitomizes what Malevich defined as his 'supreme' or 'Suprematist' vision of the world. The painting is not known to have been a part of the exhibition in the Dobychina Art Bureau but is believed to date from this same period of creative breakthrough and, if not included, was, presumably painted very soon after the show closed in January 1916.
It is clear, from the frequency with which Malevich later exhibited the picture, that he thought very highly of the painting. Malevich subsequently chose, for example, to include Suprematist Composition in every other major survey of his Suprematist pictures made during his lifetime. These exhibitions ranged from his first major retrospective in Moscow in 1919 to the great travelling retrospective showcasing much of his best work that he brought to the West in 1927. It was as a result of his last exhibition held in Berlin that Suprematist Composition came to form part of the extraordinarily influential group of Malevich's paintings that remained in the West and represent so much of his creative legacy.
Hidden in Germany throughout much of the 1930's, Suprematist Composition and the other works from this great Berlin exhibition, were ultimately to become part of the highly influential holdings of Malevich's work in the Museum of Modern Art in New York and the Stedelijk Museum in Amsterdam. Until 2008, when it was restituted to the heirs of Malevich's family in agreement with the Stedelijk museum, Suprematist Composition was on view in Amsterdam as part of the Stedelijk's unrivalled collection of the artist's work.
Also:
Property of an Important Collector. Fernand Léger (1881-1955), Le grand déjeuner, 1921. Estimate: $15,000,000-25,000,000. This work is offered in the Impressionist and Modern Art Evening Sale on 15 May at Christie's in New York © ADAGP, Paris and DACS, London 2018

6

Léger retained his modern aesthetic even as he drew from the art-historical canon
It is rare to sell one masterwork from the 1920s but this season we will be offering two, with the inclusion of Les trois femmes au bouquet (1922), another classic depiction of women in a domestic interior, also offered on 15 May. Again, Léger chose to meld tradition with modernity.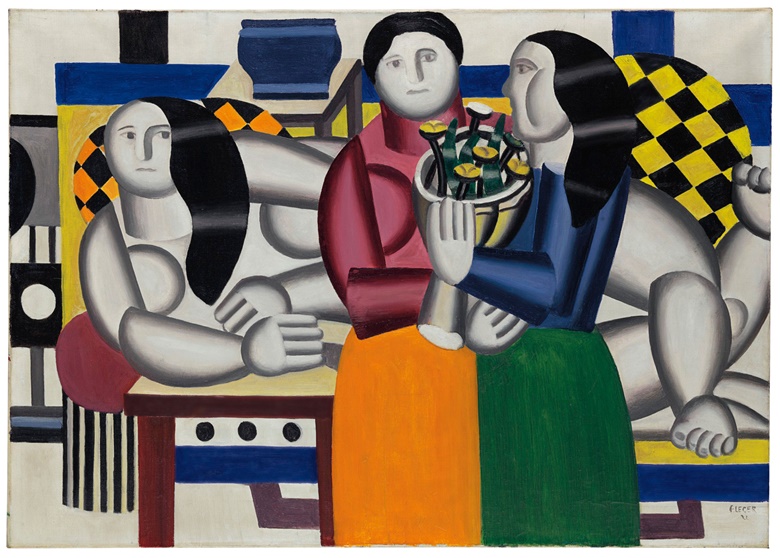 Property from The Collection of Joan and Preston Robert Tisch. Fernand Léger (1881-1955), Les trois femmes au bouquet (1922). Estimate: $12,000,000-18,000,000. This work is offered in the Impressionist and Modern Art Evening Sale on 15 May at Christie's in New York © ADAGP, Paris and DACS, London 2018

The grey trio look like they could have been fabricated out of steel and burnished chromium, yet they're also clearly inspired by the Three Graces of Classical mythology, and here the interaction between the figures creates a dialogue and connection between the forms.

7

The 1930s was both an experimental and an extremely productive decade for Léger
In 1931 Léger made the first of three trips to the United States, having been commissioned to decorate the New York apartment of Nelson Rockefeller. He returned in 1935 and 1938 to complete a similar project for Wallace K. Harrison's Consolidated Edison Building at the 1939-40 World's Fair.
In 1932 he resumed teaching at the Académie Moderne, a free school he had co-founded with
Amédée Ozenfant
in 1924. In 1935, just four years after his initial visit, he was given
a major show at New York's Museum of Modern Art
.
The latter half of the decade saw the completion of the monumental mural paintings
Adam and Eve
and
Composition aux deux perroquets
, a work he considered to be one of his most important. He also produced murals for expositions in Brussels and Paris, and set and costume designs for the Paris Opera.
8

Fernand Léger was a painter with a definite social agenda
Léger's murals of the late 1930s were inspired by his belief that modern art could be an agent of change, a means of communicating an optimistic vision of a forward-looking socialist society. In 1935 a coalition of leftist and centrist parties, organised labour and intellectuals formed the Front Populaire in France. Léger believed this represented the dawn of a new and potentially transformational social consciousness — precisely the opportunity that would allow him to bring modern art out of the studio and into the everyday sensibility of the public.
He spent the war in America, where he made a series of paintings inspired by the neon lights of New York. He returned to France December 1945 and, like Picasso, joined the French Communist Party. The optimism Léger felt at returning to his homeland was reflected in his painting — there is an easygoing vitality and an athletic physicality in the artist's late works.
Léger believed that an essential part of peacetime reconstruction was to bring a sense of enjoyment to the lives of citizens from all walks of life, and, for him, the circus represented the public spectacle
par excellence —
a genuine art of the people. His final masterwork,
La Grande parade, état définitif
(1954) capped a long line of circus scenes that he executed throughout his career.
9

Art from two periods of his career is especially sought-after
Interest in Léger's work is 'very strong right now', says Jessica Fertig, Senior Vice President for
Impressionist and Modern Art at Christie's
in New York. Demand is particularly robust for pieces executed during two periods of his career: 'Just before the First World War, and the work featuring female figures from the early 1920s.'
Last year, Christie's broke a world record for the artist with an example of the former (
Contraste de Formes
). This May, we're offering two very fine examples of the latter.
'The works from before the War — both Cubist and those moving beyond Cubism — have always done well at auction,' Fertig says. 'What's interesting is that the early 1920s pieces are now widely considered in the same rank.'
10

Léger will be well-represented in exhibitions in 2018
Fernand Leger (1881-1955)

Les trois femmes au bouquet
Previous sale 1999
USD 4,402,500
USD 5,000,000 - USD 7,000,000
Fernand Leger (1881-1955)
Lger, F.
Les trois femmes au bouquet
signed and dated 'F.LEGER 22' (lower right); signed and dated again and titled 'Les trois Femmes au bouquet F.LEGER 22' (on the reverse)
oil on canvas
25.5/8 x 36 in. (65.1 x 92.7 cm.)
Painted in 1922

Provenance
Galerie Simon (D.-H. Kahnweiler), Paris (acquired directly from the artist).
Galerie Pierre Loeb (Galerie Pierre), Paris (1926).
Dr. G.F. Reber, Lausanne.
Galerie Rosengart, Lucerne.
Dr. Charles Bensinger, Chicago (1949).
William Beadleston, Inc., New York .
Donald Morris Gallery, Inc., Birmingham, Michigan. (acquired from the above).
Acquired from the above by the present owners on 7 December 1982.
Monday, April 16, 2018
ART OF THE AMERICAS, EVENING SALE
Wednesday 9 May, 7pm
Browse sale
View catalogue
The sale features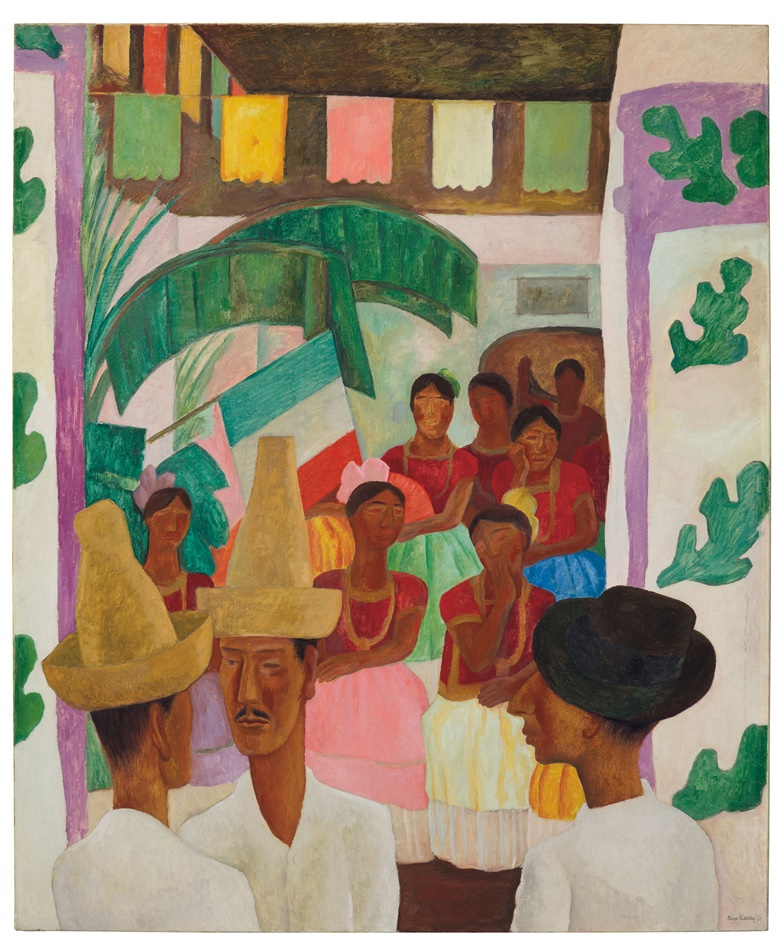 Diego Rivera's 1931 masterpiece,
The Rivals,
which was commissioned by Abby Aldrich Rockefeller and was given to Peggy and David the year after.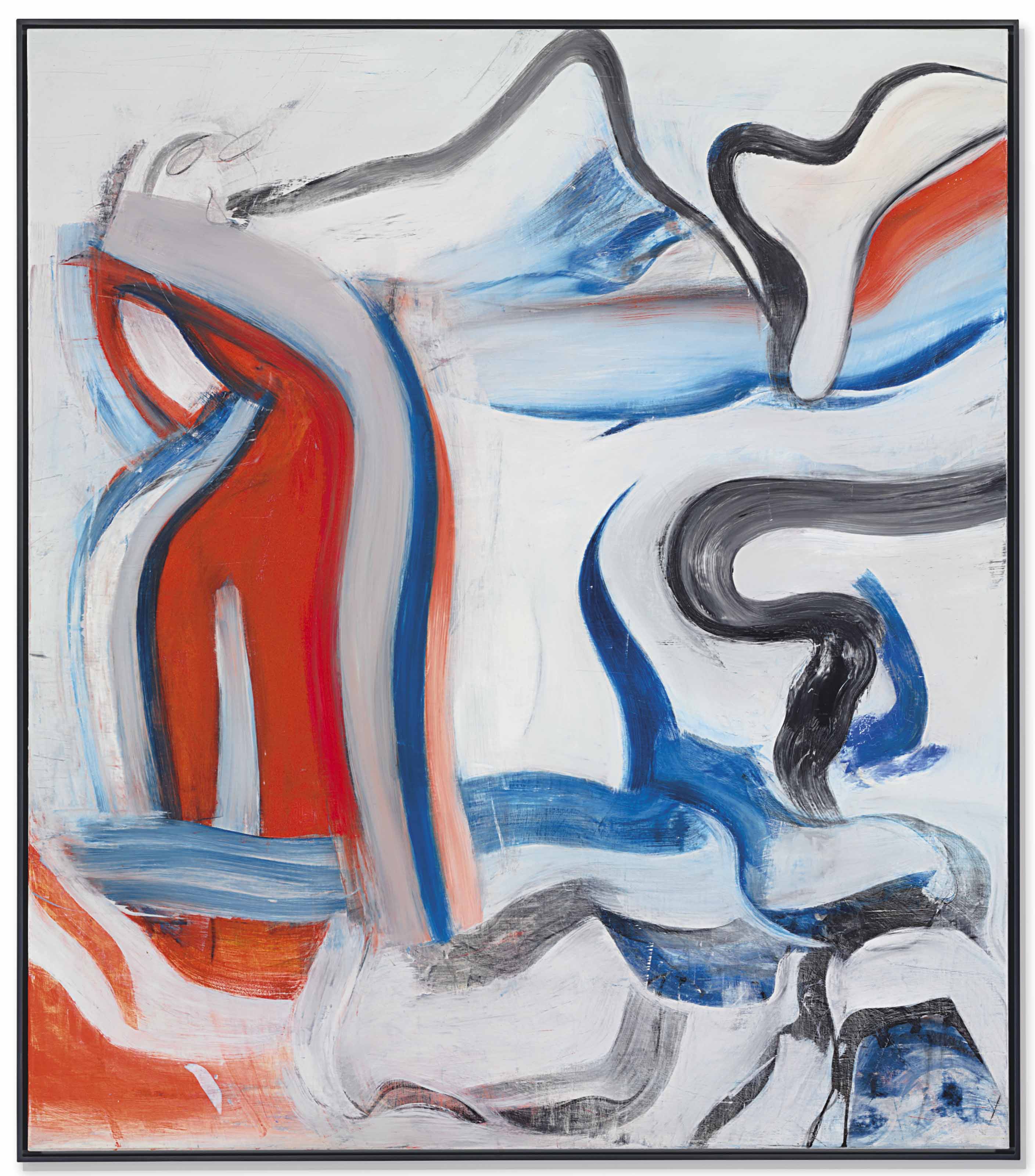 Willem de Kooning's
Untitled XIX
from 1982(
USD 6,000,000 - USD 8,000,000)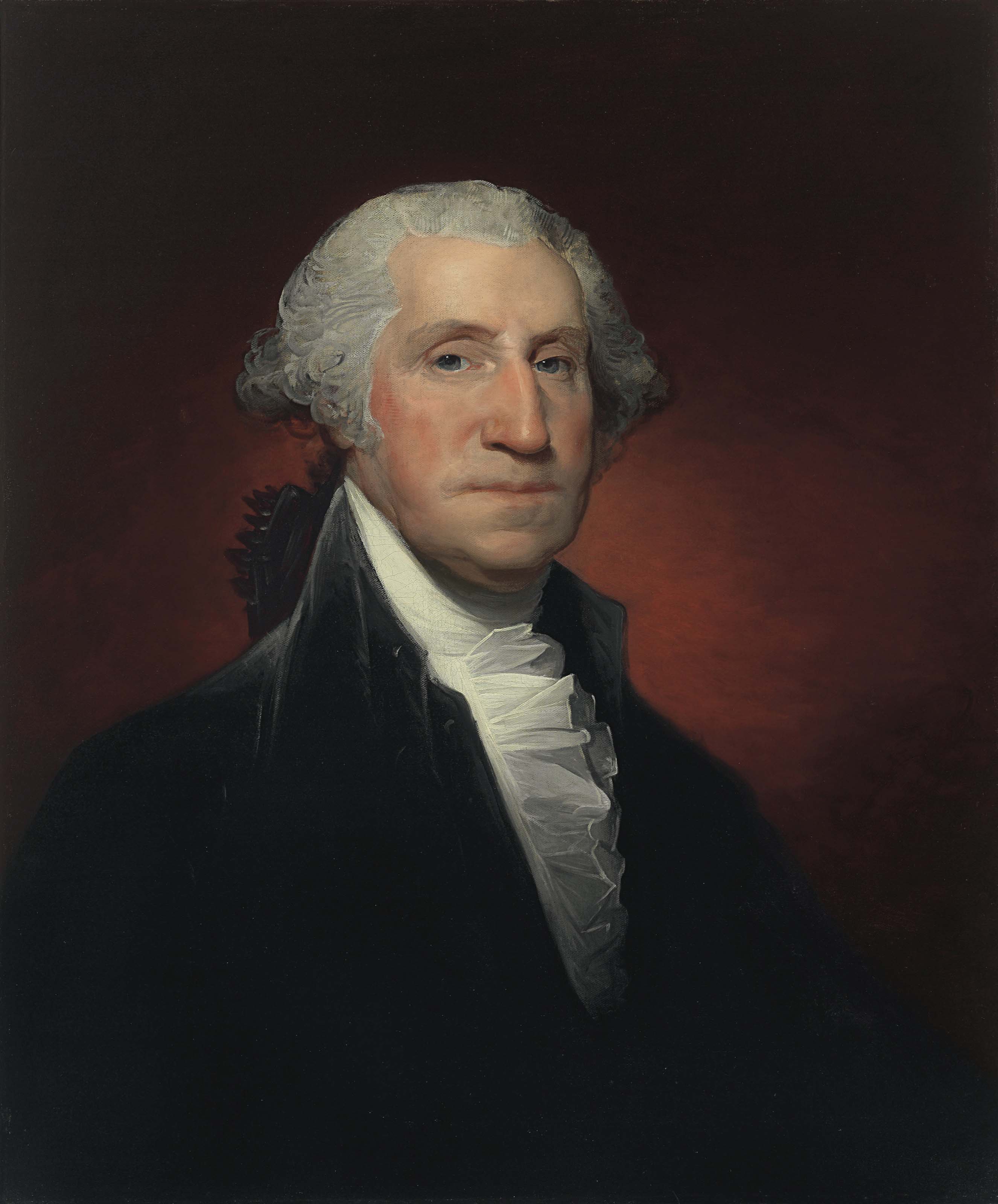 and Gilbert Stuart's
George Washington (Vaughan type)
USD 800,000 - USD 1,200,000
are among the offerings.
also: